Commercial Roofing Services in Austin, TX, by CV Roofing LLC
Are you looking to update your building's roof? Trust CV Roofing LLC for top-notch commercial roofing services in Austin, TX. Our team of experienced roofing contractors can handle all your commercial roofing needs, from installation to repair and maintenance. With our expertise and commitment to quality, we'll ensure your building is protected from the elements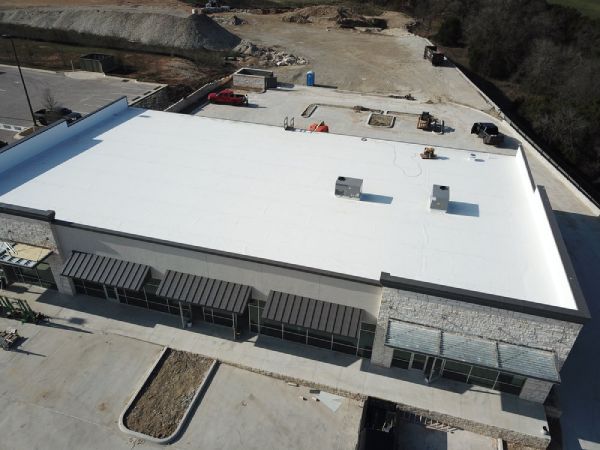 At CV Roofing LLC, we offer a wide range of commercial roofing options to suit your needs and preferences. Whether you need a new roof installation, repair, or replacement, we've got you covered. 
Our team is highly trained and certified in various roofing systems, including single-ply PVC and TPO, EPDM, and modified bitumen roofs, ensuring your project is completed to the highest standards.
Our Services
Single Ply Roofing
Single-ply PVC and TPO membranes are popular choices for commercial flat roofs due to their energy efficiency, reliability, and ease of installation. CV Roofing LLC has the expertise and materials to install single-ply PVC and TPO membranes for your commercial roofing needs. With our 20-30 year NDL Warranty, you can have peace of mind knowing your roofing project is backed by our quality guarantee.
Modified Bitumen
Modified bitumen is a durable and cost-effective option for commercial roofing, especially for low-slope roofs. It is made from asphalt and rubber modifiers and can be installed using torch or cold adhesive methods.
Our skilled roofing contractors at CV Roofing LLC are experienced in installing modified bitumen roofs using both methods. We'll ensure that your modified bitumen roof is properly installed, sealed, and protected, providing long-lasting performance and value for your commercial property.
Metal Roofing
Metal roofing is a popular choice for commercial properties due to its durability, low maintenance, and energy-saving benefits. At CV Roofing LLC, we install 24-gauge metal roofs in various profiles to suit your desired aesthetics. With a wide range of colors available, you can choose a metal roof that enhances the look of your commercial property while providing superior protection against the elements. Our expert roofing contractors will ensure a seamless installation for your metal roof, adding value and longevity to your commercial property.
Call Now to Learn More
Contact us today at (512) 629-4435 to schedule a consultation or request a quote for your commercial roofing project.